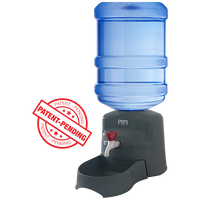 Clean Water for Happier and Healthier Pets
Pure Aqua Pet introduces its patent-pending watering system for dogs, cats, or any household pet. PAP's water bowl is easy to clean and built to last. Made with high quality, safe materials, the PAP dog and cat water bowl is a healthier option than a typical bowl with tap water, and it offers you the convenience of a 5 gallon dispenser.
Shop Now
Fits Any 5 Gallon Water Bottle!
Choose from a variety of water brands that offer five gallon jugs. The choice is yours to make for your pet! The bowl is easy to clean, and the tap system is easy to turn off and on. The built in valve helps prevent bacteria from back-washing into the bottle, which sets apart PAP from other watering systems. Our goal is to make sure your pet drinks healthy water to stay happy and healthy!